HD LED light makeup mirror
HD LED light makeup mirror
Brand: what's useful
Product Code: CJJJJTFZ00098-White-With magnifier
Availability:In stock
Have a question?
Desktop three-sided folding LED light makeup mirror touch dimming with 2 times 3 times magnifying glass surface
Size: 280*180*117mm
Material : ABS
Suitable for everyday home, bathroom bedroom.
Simple and generous, high-quality materials, and a unique and functional experience, people can't put it down.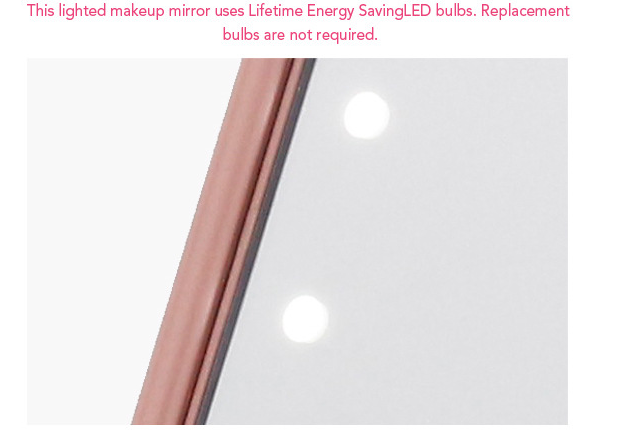 With 4 different magnification mirrors in one, you can now choose your desired view, without having a clutter of mirrors in front of you.
You can also do your final finishing makeup touches in the dark with the built-in LED lighting that is controllable via touchscreen. Putting on makeup has just gotten so much easier, and clutter free.
FEATURES:
High definition and true clarity - With its 1X, 2X, 3X and 10X magnification, you can see every finest detail easily, clearly.
True daylight brightness - Its built-in LED lights mimic natural daylight, which is easily controlled at a touch of the screen.
Find your perfect viewing angle - Its 180° easy swivel base allows you to view your makeup or hair from any angle you like.
Easily portable - The mirror easily folds shut, into a compact piece that you can easily carry around.
Never lose your makeup items again - Its base is also a handy compartment tray, easily allowing you to store your essential makeup items there.
Choice of using USB power or AAA batteries for LED lights.
I was hoping it would light up a little more, but for what it costs, it's fine. It also brings the built-in batteries.
HD LED light makeup mirror
HD LED light makeup mirror
HD LED light makeup mirror
Delivery time estimated between 7 days to 20 Days (average time is 10 days).
 Delivery is free.
We ship to those countries :
Australia
Austria
Canada
France
Germany
Italy
Netherlands
Spain
Sweden
United Kingdom
United States
Shipment processing time
 All orders are processed within 2-5 business days. Orders are not shipped or delivered on weekends or holidays.
If we are experiencing a high volume of orders, shipments may be delayed by a few days. Please allow additional days in transit for delivery. If there will be a significant delay in shipment of your order, we will contact you via email or telephone. 
On average, a package can take 7-15 days to arrive from the date of shipment.

Shipping rates & delivery estimates
Shipping charges are free for all orders.
While we will endeavor to have products ordered delivered as soon as possible, whatsuseful is not liable for any delay in delivery by the courier company / postal authorities and only guarantees to hand over the consignment to the courier company or postal authorities within 24 working days from the date of the order and payment or as per the delivery date agreed at the time of order confirmation. Delivery of all orders will be to registered address.
Shipment confirmation & Order tracking
You will receive a Shipment Confirmation email once your order has shipped containing your tracking number(s). The tracking number will be active within 48 hours.
Damages
whatsuseful will provide a full refund/replacement if:
– Orders arrived damaged.
– Order arrived damaged but you dont want the replacement to be sent.
– For electronic products, you should inform us in the 2 days after received.
– Send us Explanation and Photos of the damaged item to prove damage to [email protected]